Bringing your Ancestors from Edinburgh and the Lothians to life. How many interesting tales are waiting to be found about your Scottish ancestors? This video explains to those with Scottish Ancestry how Research Through People go about researching their ancestors and bringing them to life, using examples from the Edinburgh and the Lothians. Discover your Scottish family lineage with professional genealogists and uncover a past that you never knew existed. 
Scottish History, Heritage and Family Lineage
People ask us to uncover the story of their ancestors from a certain country such as Scotland. But, of course, they're more precise than that. In this video, we look at personal examples of ancestry from Edinburgh and the Lothians, where the history goes way back in time. We will talk about historical and other aspects of the times that your ancestors lived through; and use examples of walking in your ancestors' footsteps to illustrate what's involved in the research. 
Join the many others to have experienced family history uncovered by our professional genealogists Researching Ancestry and bringing history and your ancestors to life. 
Edinburgh and the Lothians

History and Heritage

 
Scotland is a very special country, and Edinburgh has been its capital since 1452. It is on the east side of Scotland, south of the Firth of Forth. The County of Edinburgh is now called Midlothian. West Lothian used to be Linlithgowshire; and East Lothian was Haddingtonshire. 
The Castle goes back many centuries. Edinburgh has more than 4000 listed buildings. Nowadays you can see Princes Street and the New Town which was built in the late 18th century; go to the Edinburgh Festival and Tattoo in the summer. It's a great place to visit, particularly if your ancestors came from there.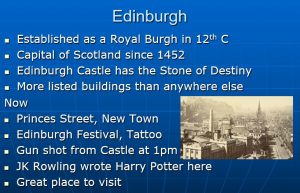 The

Richardson and Grandison

fam

il

ies

of

Edinburgh

 
The Richardson and Grandison families lived in Edinburgh. Robert Richardson  came from Manchester, and married Isabella Connolly who was from Edinburgh. The Connollys had come over from Ireland. Robert was a musician who went to London before he came to Scotland. His son Joseph became an artist. There are many interesting stories about them. The Grandisons were coal miners, like many people over the years. 
The

Scotts

of Edinburgh and

Haddingtonshire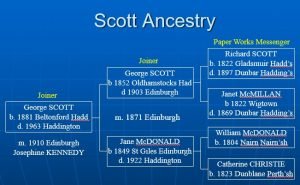 The Scotts had lived in Haddingtonshire, now East Lothian, since the early 19th century, before moving into Edinburgh. Richard Scott was a paper works messenger. We researched this, and found out about the Beltonford Paper Mill in Dunbar, where Richard worked, which had started in 1865. His son George and grandson George became joiners. The McDonalds had come down to Edinburgh from Nairn and Perthshire. 
The

Boswell

s

and Bowies
The Boswell family came from Dunfermline in Fife in the 18th century. James Boswell was a market gardener at Ormiston Hall, owned by Lord Hopeton. Their son Alexander was born in Abercorn in Linlithgowshire, now West Lothian, and became a carter. Alexander married Jean Bowie – the Bowies came from Bo'ness on the south bank of the Firth of Forth. Their son James Boswell was born in Ormiston and did something very different – he became a schoolmaster. Then he emigrated to New Zealand on the other side of the world. Here we have an old photo of the Boswell family in New Zealand. 
Looking to walk in your Edinburgh ancestors footsteps through ancestry search? 
So, there are people from Edinburgh all over the world. That gives you a flavour of what walking in your Edinburgh and Lothians ancestors' footsteps could be like. You can also watch our other videos/blogs about Your Ancestors from Glasgow, Ayrshire, Scotland, and many others.  
If you'd like to chat about how well planned research can act as an inspiration for discovery; fill in your research query and we will be happy to help. We look forward to hearing from you and being part of your Scottish ancestral journey.