Walk in the Footsteps of your Ancestors from Birmingham and the West Midlands. How many interesting stories are waiting to be found about your English ancestors? This blog explains to those with English Ancestry how Research Through People go about researching their ancestors and bringing them to life, using examples from Birmingham and the West Midlands. Discover your English family lineage with professional genealogists and uncover a past that you never knew existed. 
Let us connect you with your ancestors' lives, trace your family back in time and provide a fascinating report with maps showing exactly where your ancestors lived. 
English History, Heritage and Family Lineage
People ask us to uncover the story of their ancestors from a certain country such as England. But, of course, they're more precise than that. In this blog, we look at personal examples of ancestry from Birmingham and the West Midlands, where the history goes way back in time. We will talk about historical and other aspects of the times that your ancestors lived through; and use examples of walking in your ancestors' footsteps to illustrate what's involved in the research. 
Birmingham and the West Midlands History and Heritage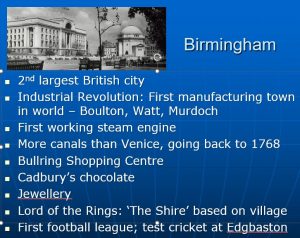 Birmingham is the second largest British city after London, It very much grew during the Industrial Revolution, and became the first manufacturing town in the world. The first working steam engine, more canals than Venice going back to 1768. 
There many other things – the Bullring Shopping Centre, Cadbury's Chocolate,  jewellery, Lord of the Rings, the Shire was based on a village south of Birmingham and it had the first football league. It is surrounded by a number of very significant towns such as Coventry and Wolverhampton, and the counties that make up the West Midlands.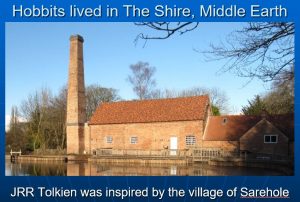 Tolkien, when he wrote the Lord of the Rings, had the Hobbits living in The Shire in Middle Earth. In fact, The Shire was based on the village of Sarehole, on the south side of Birmingham. Tolkien grew up there and based some of the story on what he saw there, and in other places, as a child.
The Shirt Family and Ancestry 
Daniel Shirt's son was born in Birmingham in 1944, during the Second World War. Daniel, was from Aston on the north side of Birmingham. It was a sad story because Daniel had first married Linda, she died at the age of 28. One of the sources of information that's become available in the last couple of years is the 1939 Register. This shows both Daniel and wife Linda living in Wheeler's Lane on the south side of Birmingham. His father Daniel was also in the 1939 Register, and living in Solihull. Both Daniels were electrical testing engineers. 
Father Daniel Shirt was born in 1872 in Stepney in London, and had moved north to Birmingham. His father James Shirt was also from there but emigrated to Australia. We found an old 1885 photo of James with wife Elizabeth and son Daniel. 
The Eagles of Birmingham 
The Eagles lived in Birmingham 200 years ago and before. James Eagles was born there in 1804 and became a brass founder in the Industrial Revolution. His father John was born in St. Martin's in the centre of Birmingham. I picked this example because we've got a combination of the old and the new. The photo shows the old church of St. Martin's was very much in the centre of Birmingham. Now, it's surrounded by the famous Bullring Shopping Centre; and the amazing building on the right which is Selfridges. 
The Thurmans of Tipton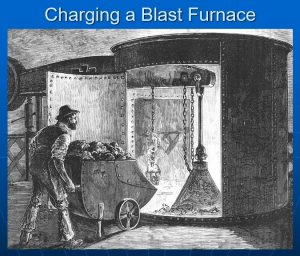 Joseph Thurman was born in Over Whitacre on the east side of Birmingham, then moved to Tipton, some 10 miles north west of Birmingham, where the family would live for the rest of the 19th century. They stayed there because of the Industrial Revolution and the jobs that it provided. Both son William and grandson Thomas worked as ironworks labourers. Tipton was famous for its ironworks. The drawing shows what it was like charging a blast furnace; a very hot job to keep doing all day! 
That gives you a flavour of what walking in your Birmingham and West Midlands ancestors' footsteps could be like.  We are dedicated to helping you discover your Birmingham roots and family heritage.  Find out What Can You Expect if you ask us to research your ancestors for you. 
Ready to trace your Birmingham Ancestors Footsteps? 
Many people across the world are lucky enough to have ancestral ties to Birmingham or feel a connection with England. Researching ancestry and walking in the footsteps of ancestors can be important motivations for some visits to England. 
Please fill in your research query and we will be happy to help. We look forward to hearing from you and being part of your English ancestral journey.