"THE DELANO AND COOKE ANCESTORS: The Intrepid de Lannoys and Mahieus from Flanders
THE EXTRAORDINARY STORY OF THESE UNIQUE MAYFLOWER AND FORTUNE PILGRIMS
THE BOOK THAT EVERY DESCENDANT OF PILGRIMS FRANCIS COOKE AND PHILIP DELANO SHOULD READ
Streamed live on 4 Nov 2022 with George Philip English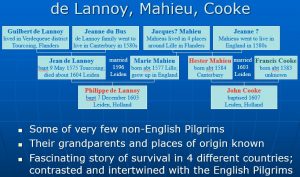 The European Ancestry and History of Francis Cooke and Philip Delano/Philippe de Lannoy is, possibly, the most unique among the first Pilgrims on the Mayflower and Fortune to New England. The de Lannoys and Mahieus came from French-speaking Flanders. Their extraordinary and fascinating story was very different to that of the English Pilgrims. Persecuted by their Spanish Catholic rulers, they fled to Canterbury England. Later, they went to Leiden, Holland, nearly 20 years before the English Separatists arrived.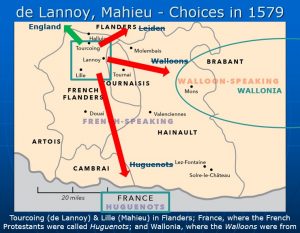 Professional genealogist, historian and de Lannoy/Mahieu descendant George Philip English presents the fascinating, evidence-based family history in his book 'The Delano and Cooke Ancestors', with the family members, historical and social information, pictures and maps to bring them to life; and George speaks with Host and fellow descendant Col. William English CBE.  'The Delano and Cooke Ancestors' is available for purchase at the Lulu Bookstore (https://www.lulu.com/shop).
THE ANCESTRY AND HISTORY SHARED BY 5 US PRESIDENTS, WINSTON CHURCHILL AND A MILLION DESCENDANTS
This is one of the many videos on YouTube that we have made. Please get in touch for your free consultation. You can navigate directly to website and talk to us today. We look forward to helping you and bringing your ancestors and your family to life.