We're bringing Scottish ancestors to life, walking in your ancestor's footsteps.
In this piece, we will give you some idea of what may be involved in researching them, and what you can expect to get out of it, and how we help to bring those ancestors to life for you.
We use examples from others that have been helped. These families have ancestors who lived in Glasgow & Edinburgh, and the counties of Ayrshire, Lanarkshire, Dumfriesshire, Kirkcudbrightshire, Wigtownshire, Midlothian, Stirlingshire, Banffshire, Ross & Cromarty, Sutherland & Orkney, as well as England, Ireland & USA.
Scotland of course is a country with a very rich history and very unique features such as the clans, tartan and even the bagpipes. So what we're going to do is tell you a bit about researching, and then use some examples so we can help you understand what may or may not lie ahead for you.
So here's Scotland, various counties, and of course a country with various differences. The Highlands and islands around the northwest of the country, the central belt and the capital of Edinburgh and Glasgow at the borders. So a very varied country but with a lot of common history between it.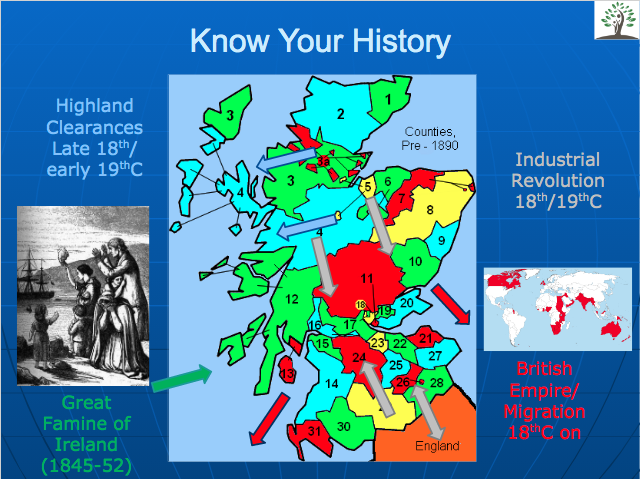 And of course your ancestors will either have stayed in the same place or maybe moved around. And of course over the centuries people have moved, both within Scotland and gone abroad. And equally, those from other countries have come to Scotland.
Now, one of the things that you may have heard about is the Highland Clearances, which went on some 200 years ago when people were actually cleared off the Highlands in order to make way for sheep. And so there are Scots around the world who may have been forced to leave their homeland.
The Industrial Revolution had a tremendous impact, not just on Scotland, but on the whole United Kingdom, who led the world in becoming the first industrialised nation. Typically, a lot of people left the country and the rural areas and went to the cities and towns where the new jobs were to be found.
A disaster that happened in Ireland in the middle of the 1800s was the Famine. Many years of famine, leading to a million deaths, and another million who immigrated, many of them came to Scotland. So many Scots have Irish ancestors as well.
Scots Went Around The World
Many people from Britain went around the world and we find Scots living in America, New Zealand, Australia, South America, virtually all parts of the world. And of course, many of you will know of Robert Burns, the national poet, and every year a Burns supper is celebrated in January by Scots living around the world, in most countries of the world. And that's a heritage that many of your ancestors will share.
So let's have a look at what's actually involved in researching and the key really is three things. 
Did your ancestors do something that caused someone to record what they did? 
Has that record survived? 
Can we find it?
So four main factors in tracing ancestry, the first one is Status.
Status
Obviously, with nobility or royalty, their records are written down far more than someone from a working background. But there's other records were kept for people, like landowners obviously records of the land, quite often that was involving tax, and then various jobs, professions, trades, employees of companies, records were kept for them. 
Passenger lists are becoming more available now, and even the poor living in workhouses, good records were kept for them.
What other records do we look at? 
Well the main ones are the birth, marriage and death records, which officially started in Scotland registration in 1855, and the censuses which are held every 10 years, first one held in 1841. And from that time on it is much easier to trace people. Before then the main source of baptisms, marriages, and very often burials were the parish church registers. But the whole range of other sources such as wills, gravestones, newspapers that we use, particularly to bring the people to life, not just a series of dates.
Name
Surname clearly is quite crucial. Something like Smith is much harder to find than one that's much less common. In Scotland, a feature of course, the clans. Did you have a clan surname? That may have a big effect on where the records are being kept.
Continuity
And lastly, continuity. Did your ancestors live in the same place for a number of generations, which clearly makes it easier to track them, whereas these days people move all over the place. On the other hand with the coming of the digitisation and the internet, records are far more accessible than they used to be. So we can do far more for our clients than we could have done even five, 10 years ago.
Milligan, Taylor Ancestry
So let's look at a couple. Here we are, this couple came along, and they said we're Ayrshire born and bred, both of us. So sure enough we had a look and the parents were born in Ayrshire, then the grandparents. Yeah, most born in Ayrshire. Here, this Cambuslang is just outside Glasgow. Here's Riddex, born in America. What's all that about? So we had another look, another generation back, and in fact her mother was from America, but they were originally from Ayrshire, and the grandfather went over to America, to a mining community, was a miner. Worked over there, had some children, came back to this country, in fact, to Ayrshire, where he died. But you could see other place here, Ireland features. Wigtownshire is in the Borders. Golspie is up North. South Ronaldsay is on Orkney. So where they thought it was just Ayrshire, in fact there was a rich mix of different backgrounds.
So let's look at a bit more detail, here are the Gebbies. James Taylor marries Robina Wilson in 1919 in Glasgow. Let's look at what our record contains. And the Scottish records have more information than virtually any other country. In particular, they include the name of the parents, not just on birth records, but on marriage records and death records. And that helps a lot in tracing back in time. So here we have the marriage record. It says when the marriage took place, where in Glasgow, we've got James and Robina, and he's a coal miner. So we know his occupation. We know how old they were when they married, where they were living, and their parents, as I said, James Taylor a Sergeant in the Highland Light Infantry. 1919's just after the First World War. And sure enough, we found he'd been in the Highland Light Infantry during the First World War and we're still in it in 1919. We get his wife Jeanie and her maiden name. Robina's father James was a slater, so another occupation, and her mother as well. Both the mothers in this case sadly were deceased, but already we've got quite a lot of information that we can build on.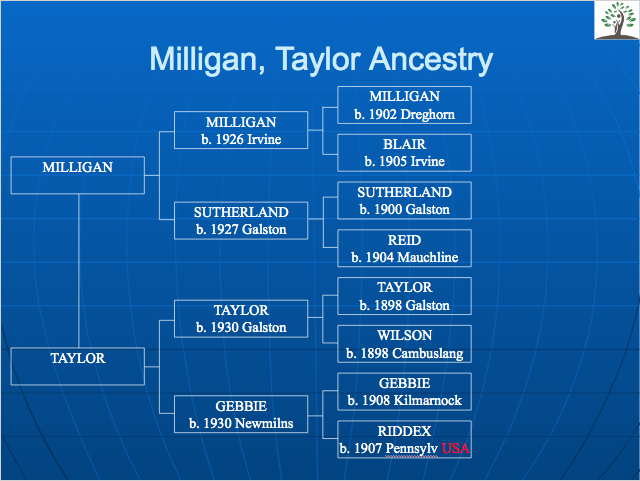 And so if we go back in time, we see where the ancestors came from. There's James Taylor from Galston but his father's from Edinburgh. Dumfries in the borders, and here we are America, and again another generation back here we get Orkney, and a whole range of different backgrounds, that make up these people who are from Ayrshire, and that's what ancestry can do. It can bring a whole lot of information that's very often not being passed down the family, comes as a surprise when we go along to say people and say, "Look, do you know where your ancestors came from?" And that gives scope, walking in your ancestors footsteps is a great thing to do, and here we are, in fact this case, this couple went up to Orkney, and went to the places, the addresses that we'd found, where their ancestors lived.
If you look at one particular feature of this, the Gebbies, here we are the Census. So 1871 here's the Gebbies, John Gebbie living in Loudoun in Ayrshire, that's what's called the Irvine Valley, which is Newmilns, Darvel and Galston, and a lot of weaving went on there. So here we are. All three of them are muslin weavers in 1871. 1881, we see, well, this time, John Gebbie, the son, is the head of the household. His father is living with them, and is widowed, and you look at the occupation, where they were muslin weavers, they're now factory lace weavers. Had something happened? Sure it had? In 1876, Alexander Morton had introduced lace making to the Irvine Valley. So there are the Gebbies living in history, something has happened that has affected their lives.
Buchanan Ancestry
And so that helps to bring to life the ancestors. OK. Let's look at another case now. When I see a surname like Buchanan, I automatically think Scotland, but here we are Jean's born in Cambridgeshire in England. Well yes she is, but her father's born in Ayrshire. His father was born in Yorkshire, although he'd married in Bannockburn, lot of Scottish connections with Bannockburn of course. And in fact there's a very interesting story about how he came to go down to Sheffield as a gardener, and worked on a big estate which employed 30 gardeners, and going back in time, there's the Scottish connection, and eventually we get back to the early 1700s, Balfron, Buchanan as a name actually comes from a place called Buchanan, quite near Loch Lomond. And so there we are almost back where the name originally came from.
Again, this brings the ancestors to life. And you can see here the sort of jobs they did, gardener, agriculture, and then William Buchanan, a Marine engineer. Very different sort of opportunity that he took advantage of. And before the official registration I mentioned there were parish registers. So here's a parish register, handwriting by the minister. Some handwriting much easier to read than others. So Alexander Buchanan down in Ayrshire now, in Irvine, marries Elizabeth Dalrymple from Ayrshire. And you can see, 1755, and that record survived more than 250 years. And people like to see very often, and touch, these old documents that relate to their family.
Munro Ancestry and the Clan
A very special feature of Scotland, of course, is the clans. Clan maps of Scotland show the Campbells and the McPhersons and the Grants and the McKenzies, different places. And the thing with the clans is they themselves very often keep very good records, and people with the surname, either are blood descendants of the clan itself, or very often they are followers who give their loyalty, their fealty to the clan, and in return had land and protection and so on and so forth. So we had an ancestor, someone with Munro inquiring about their ancestors, and in fact they'd found out that they came from Fordyce in Banffshire. Now the clan headquarters for Munro are just north of Inverness.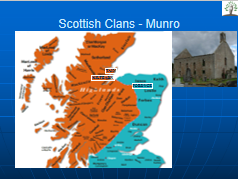 Well, we traced the next Munro generation back to Tain, quite near there. And then to Kiltearn, which is within two miles of where the clan headquarters are. Here you can see the old church at Kiltearn, lost its roof by now of course, but we establish that connection back to where the clan had originated from. And we get some lovely surprises, some small, some big, I can guarantee you there will be surprises. This was a particularly interesting one.
Hunter Ancestry and Rabbie Burns
And here we have Janet Hunter. She's born in Kilmarnock, 1905. Her father's born in Tarbolton, a village a few miles outside Kilmarnock, and we trace back a few generations, we see his father also Tarbolton, his mother was Tarbolton, dad was a farmer and going back, his dad was a joiner. Again, Jean's born in Tarbolton, her dad was a publican in Tarbolton back in 1700. Now if you talk to a Scot and mention Tarbolton, most of them will immediately know Robert Burns, the national poet, the Bachelors Club met in Tarbolton, and so interesting day we had with the client, we went to Lanarkshire in particular where their ancestors came from. We actually visited some of the houses where their ancestors lived, but we started in Tarbolton, and we drove and stopped outside this house and I said, "Do you know what this is?" He said, "Yes, that's the Bachelor's Club where Robert Burns and his friends met." Do you know this person's ancestor, John Richard, ran the pub when Robert Burns and his friends first met there in 1780! So that was a very special moment for that person, and in fact we had a very good day in a whole bunch of ways.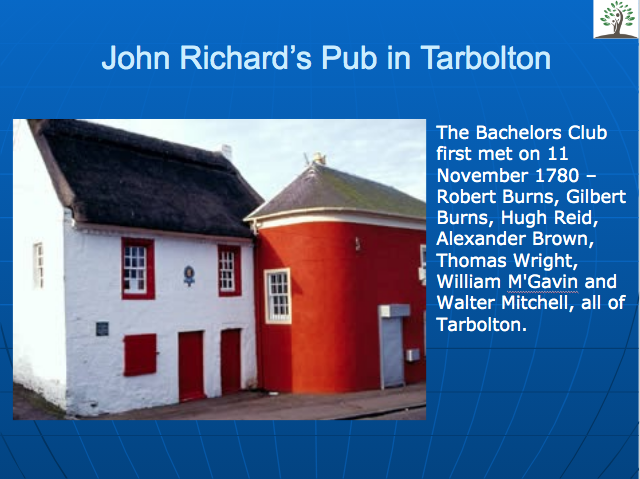 Can We Help You Find Out About Your Ancestors?
So there's a bit of a flavour for the sort of things that we may be able to find out on your behalf. We'd be delighted to have a look for you if you would like. We can promise you it will be interesting. There will be surprises. And it'll be something that you can share with the rest of your family. So please feel free to get in touch.