Bringing your Ancestors from the Home Counties of England to life. How many interesting stories are waiting to be found about your English ancestors? This video explains to those whose homeland is one or more of the Home Counties, how Research Through People go about researching their ancestors and bringing them to life, using examples from the Home Counties. Discover your English family lineage with professional genealogists and uncover a past that you never knew existed. 
English History, Heritage and Family Lineage 
People ask us to uncover the story of their ancestors from a certain country such as England. But, of course, they're more precise than that. In this video, we look at personal examples of ancestry from the Home Counties in the southeast of England. We will talk about historical and other aspects of the times that your ancestors lived through; and use examples of walking in your ancestors' footsteps to illustrate what's involved in the research.  
Join the many others to have experienced family history uncovered by our professional genealogists Researching Ancestry and bringing history and your ancestors to life.  
The History and Heritage of the Home Counties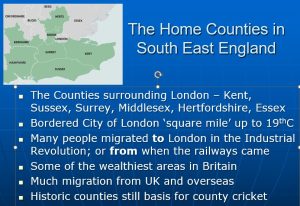 The Home Counties surround London, including Kent, Sussex, Surrey, Middlesex, Hertfordshire and Essex. Some people also include Buckinghamshire, Bedfordshire and other counties just a bit further from London. In the old days in the 19th century and before, London was just the 'Square Mile' of the City of London. For example, the county of Middlesex included places like Westminster, where the House of Parliament are, and other parts that one would now consider as central London! 
In the Industrial Revolution, many people migrated from the country to where the work was in cities such as London. The population of London grew from 1 million in 1800 to 7 million in 1900, the largest city in the world. In the 19th century, railways came and that meant that people could live further away from their work. Your ancestor stories may reflect that. People also migrated from other parts of Britain and overseas, such as the Commonwealth. The county of Sussex has now been split into West Sussex and East Sussex.   
The Enfield Family of Kent 
The Enfields were from the county of Kent. Joseph James was born in Gravesend in the later 19th century. He died 50 years later, having moved to Middlesex. His father and grandfather were also from Kent, while his mother Jessie came from Westminster, then in Middlesex. His grandmother Martha was from Essex, north of the River Thames. Censuses are so useful because they tell us where people were born. 
Joseph James Enfield married Mary from Bethel Green, then in Middlesex but now definitely thought of as in the east End of London. And Mary's dad came from Suffolk and her mother was from Wales. The kind of mixture we frequently find with families from the Home Counties. 
The Millers of Middlesex and Scotland 
The Miller family are another type of example that we find, where the ancestors have moved to the Home Counties from elsewhere in Britain. Frederick Miller was born in Hampstead in Middlesex, now a very wealthy area. By the time he dies, he's moved out north to Hertfordshire. His wife Nora is from the county of Kent. Frederick was a merchant, as were the fathers of both him and Nora.  
That gives us a clue to their family background. Frederick's dad, Thomas, was born in Scotland, in Glasgow and clearly has come down to the London area of the Home Counties. His grandfather Andrew Miller was from Ayrshire, south of Glasgow, and he too had moved down to the Home Counties. Researching him in more detail, we found a photo of Andrew, and that he was a muslin manufacturer. He had moved to Islington in Middlesex, where he lived in a lovely terraced house. Also a preacher, another factor in bringing him too life. 
The Military Connors of Bedfordshire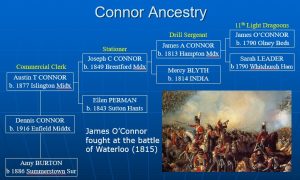 James O'Connor was born in the 18th century in Bedfordshire, one of the counties north of London which people debate whether it was a Home County or not. The name changed to Connor, and they moved to Middlesex, where the family would live for more than the next century. Austin Connor was born in Islington, Middlesex which wasn't very well-to-do in the old days. Nowadays, quite an exclusive area. If you play Monopoly, you'll know of the Angel, Islington! 
A reason that we've chosen the Connors as an example is that they lived through a famous part of history. James was a soldier in the 11th Light Dragoons. And our research found that he fought in various battles with the French under Napoleon, including the one of the most famous of all, the Battle of Waterloo in 1815. 
There are people in Britain and all over the world whose homeland was the Home Counties. We hope that this gives you a flavour of what living there was like for your ancestors.  
' lives may have been like. We have many videos that you can also watch our other videos/blogs about Your Ancestors from Birmingham, Yorkshire, Scotland and many others. All set for your British ancestral journey; navigate directly to our contact page and fill in your research query.