In Ancestry Search, people may ask us to trace their ancestors from a country like England. But, their ancestors often come from a more specific area such as a county. If you have ancestors from the north east of England, then these personal examples of Yorkshire ancestry are for you.  
All set for your Yorkshire ancestral journey? Join the many others to have experienced family history uncovered by our professional genealogists and walk in your ancestor footsteps.
Yorkshire History and Heritage
The people of Yorkshire are very proud, and often refer to their county as God's Own County or Country. Most of us can remember learning at school about the Wars of the Roses, fought in the 15th century between the House of York and the House of Lancaster. Scenically, there is a natural beauty to many areas and a lovely coastline facing the North Sea. There are historic cities like York and newer ones such as Leeds and Bradford that flourished in the Industrial Revolution. Yorkshire is famous for textiles, steel, coal and many other industries. And food – Yorkshire puddings, Pontefract Cakes, chocolate from York. Some of these will have affected the lives of your ancestors.
Success Factors in Tracing Ancestry
The success factors in tracing Yorkshire ancestry are the same as in other research – Status, Records, Name and Continuity. The Records are mostly the same as in other parts of England, but there are also local records. Surnames are similar but there are many which originated in Yorkshire. Of course, people from Yorkshire have moved to many other areas within the the British Empire and other parts of the world. Many people living overseas would like to know more about their ancestors from Yorkshire.
White and Whalley Ancestry
Frederick White and Maud Whalley were a typical Yorkshire example. They both lived in York, and married there in the nearby church of St Mary, Bishophill in 1902. The copy of their entry in the Marriage Register for St Mary, tells us their ages, that Frederick was a traveller, where exactly they lived, and who their fathers' were and their profession. Frederick's father James White had the unusual occupation of 'cigar merchant'.
Cusworth Yorkshire Heritage
One of the 4 main types of surname is a Local or Place Name. When surnames started many centuries ago, someone who had moved from a town or village, maybe only a few miles away, was given that surname because that was what distinguished them. Cusworth was a place just west of Doncaster. This Cusworth was living just a few miles from there and wondered if there was a connection. In the 19th century, their ancestors lived in Darfield and Wombwell, a few miles west of Cusworth. Going back, in time, we found that the Cusworths were living in the Parish of Felkirk; and in the 17th century, in the nearby Parish of Hemsworth. These are both within 10 miles of Cusworth. So, it could be that an early ancestor moved from Cusworth to Hemsworth many centuries ago; and the family had stayed in this small area right up to the present day.
Buchanan Ancestry
William Buchanan was born in 1856 in Sheffield. Here is an example where things are not always as they seem. In the 1851 Census, we found William's father John Buchanan working as a gardener. He was born in Ayrshire and was lodging with Jane Campbell from Ayrshire, along with 3 other young gardeners, 2 of whom also came from Scotland. Also, on the page was John Campbell, gardener employing 30 men; and George Wolstenholm, manufacturer.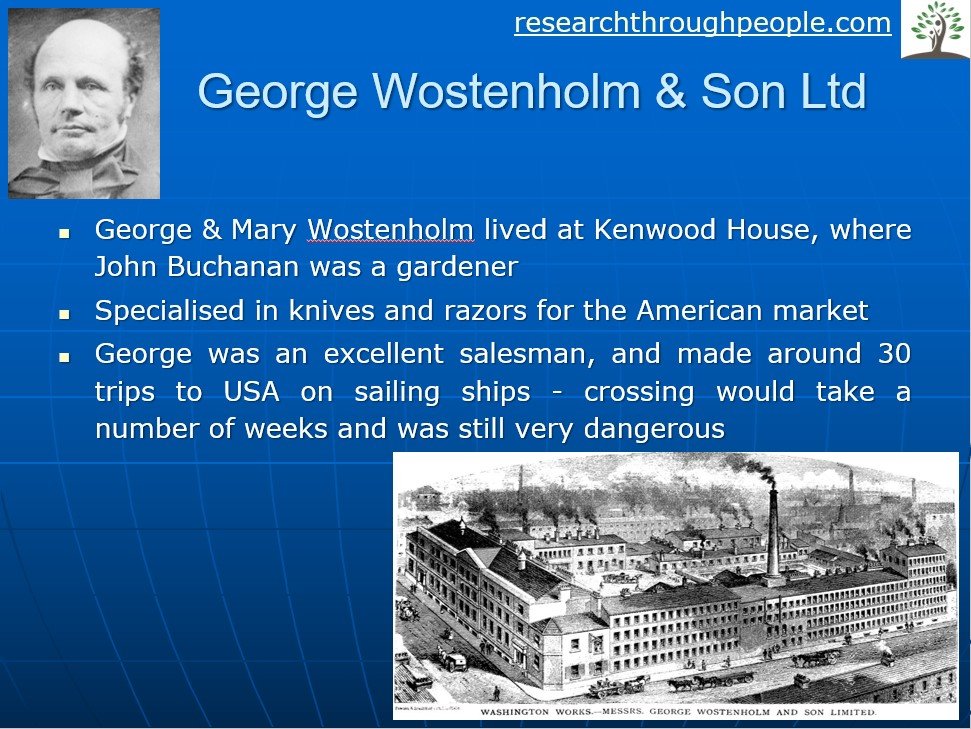 It turned out that George Wostenholm's company manufactured steel knives and razors; and John Campbell was Head Gardener at his Kenwood House estate, and the son of Jane Campbell, with whom John Buchanan was lodging. George Wolstenholm's company was very successful because he was an excellent salesman. George made some 30 trips to USA in the days when the voyage was by sailing ship. The crossing into the Trade Winds would take a number of weeks and was still very dangerous. Their works were called the Washington Works, after the American city of that name. So, our ancestors lived through history, and were often involved in events that were going on around them.
So that gives you a flavour of what walking in your Yorkshire ancestors' footsteps could be like. If you are from Yorkshire, or elsewhere; navigate directly to Our Fees page and talk to us today about your free consultation.