Bringing your Ancestors from the West of Scotland to Life. How many interesting tales are waiting to be found about your Scottish ancestors? This video explains to those with Scottish Ancestry how Research Through People go about researching their ancestors and bringing them to life, using examples from the West of Scotland. Discover your Scottish family lineage with professional genealogists and uncover a past that you never knew existed. 
Scottish History, Heritage and Family Lineage
People ask us to uncover the story of their ancestors from a certain country such as Scotland. But, of course, they're often more precise than that. In this video, we look at personal examples of West of Scotland ancestry, where the history goes way back. We will talk about historical and other features of the West of Scotland that ancestors will have lived through; and use examples of walking in the footsteps of ancestors to illustrate what's involved in the research.
Join the many others to have experienced family history uncovered by our professional genealogists Researching Ancestry and bringing history and ancestors to life.
West of Scotland History and Heritage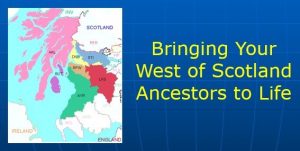 The West of Scotland is a fascinating mix of the city of Glasgow and large towns such as Paisley and Hamilton, then the rural areas and many islands off the west coast. The counties were Lanarkshire, Ayrshire, Renfrewshire, Dunbarton and Stirling in the Central Belt, and Argyll and Bute where the population was much more spread out.
Our ancestors lived through history which has transformed the West of Scotland, particularly in the last 300 years since the 1707 Act of Union with England and Wales, and the Industrial Revolution that followed. The Highland Clearances led to many Highlanders coming from the land to the north. Many Scots left to go to parts of the British Empire. The tragic Great Famine of Ireland was the cause of many deaths and the reason that many people from the West of Scotland have Irish ancestors who came over then. We frequently hear from people in USA, Australia and other countries who want to research their Scottish ancestors.
The 1707 Act of Union gave Scotland access to the English markets, with an immediate economic boom. Then the bonus of the Industrial Revolution led to the United Kingdom having more than 40% of total world's industrial capacity. The West of Scotland benefited tremendously from this, and contributed hugely as well. Industries such as tobacco, shipbuilding, textiles, coal, iron & steel grew rapidly – and many people's ancestors went to work for these companies. Populations exploded.
The Seafaring Brodie and Rhodes families of Greenock
The Brodie and Rhodes families lived in Greenock in Renfrewshire. Within 5 years of the Act of Union, Greenock had completed its harbour and founded a shipbuilding industry. Much of the West of Scotland's international trade was carried out in Greenock, because ships could not then get up the River Clyde to Glasgow.  
Both John Brodie and John Rhodes were born in Greenock at the start of the 19th century and became seamen. John Rhodes married Mary Ann Johnston in 1841, whose father was spirit dealer. The places where they lived can be found on old maps.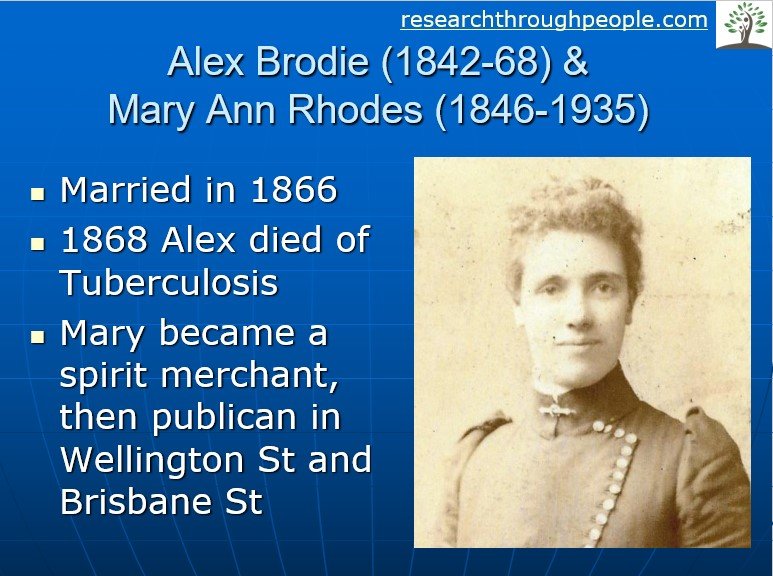 Their daughter Mary Ann Rhodes married Alex Rhodes in 1866, but within 2 years, Alex had died of tuberculosis. In those days, people died of illnesses that we wouldn't think about in these days of the National Health Service. Mary Ann must have been a  redoubtable character because she became a spirit merchant. Her life as publican can be tracked through the Censuses over the years.
The Moore Family of Dumbarton
James Moore and his wife Margaret MacKenzie were both born in Dumbarton, on the north side of the River Clyde. The family of James' father William came from Lanarkshire, whereas his mother Margaret Paterson was born in Inverary on the shores of Loch Fyne in Argyll, 50 miles to the north.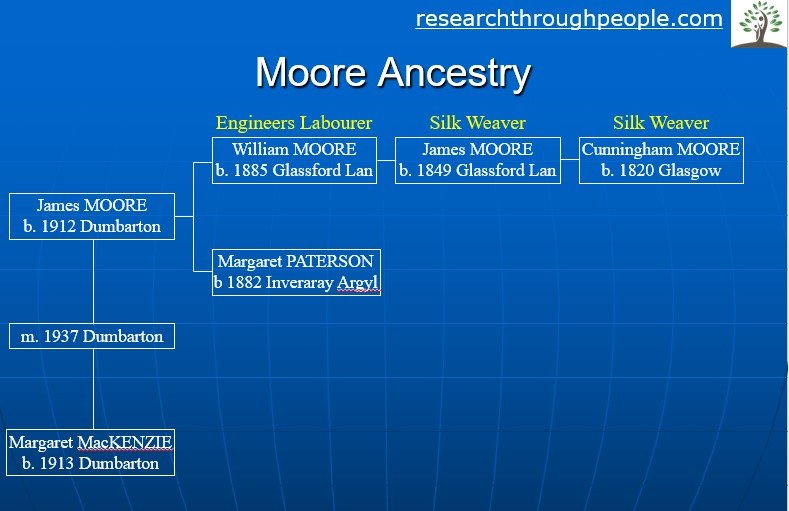 The occupations of the Moores reflect the industries in the times that they lived in. Both Cunningham Moore and his son James were silk weavers. At the start of the 18th century and before, many weavers worked at home. Gradually the industry was mechanised, and people moved from hand looms to power looms. William Moore worked as an engineers labourer in the early 19th century, by which time engines were an essential part of many industries.
O'Donnell and Murray Origins in Ireland
A big influence in the mid 19th century was the tragic Great Famine in Ireland from 1845-51. Many people just had the potato as their main food – then there were years of potato blight. So many emigrated to Scotland, as well as England, America and other countries. Many folk from the West of Scotland have Irish ancestors.
This was the case of the ancestors Elizabeth O'Donnell, born in 1910 in Hamilton in Lanarkshire. Her parents were both born in Lanarkshire, but 3 of her grandparents were born in Ireland, as were all 8 of her great grandparents. The 1851 Census shows her great grandmother Margaret Murray as a widow living with her 11 children in Rutherglen, Lanarkshire. All 11 of the children had been born in Ireland, before her husband Daniel died. They had clearly come to Scotland because of the Great Famine. There was no welfare state to support Margaret and family then., A compensation was that 8 of her children had jobs, mostly in textiles, right down to 10 year old Patrick Murray.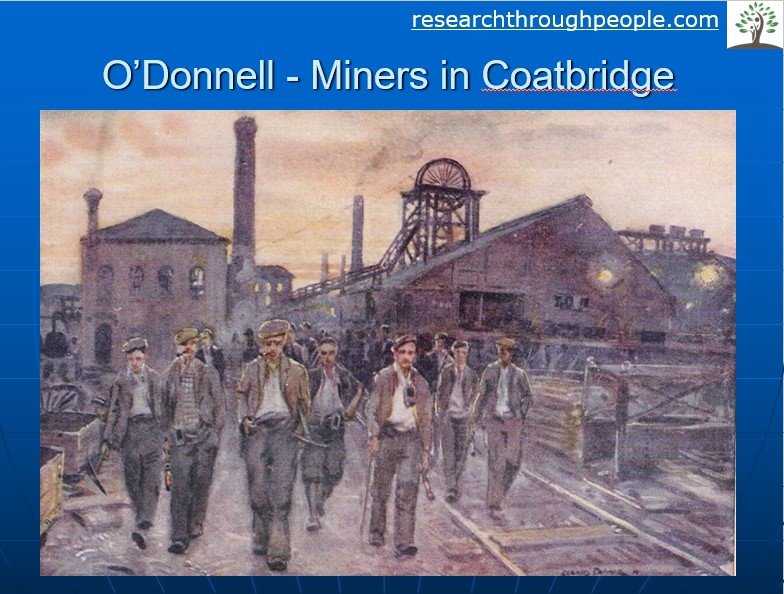 Elizabeth O'Donnell's father, and his father and grandfather, all got jobs as coal miners, as did her grandfather Patrick Murray. Coal was very important in driving the new industries, particularly in areas such as Coatbridge.
So that gives you a flavour of what walking in your West of Scotland ancestors' footsteps could be like. You can also watch our other videos/blogs about Your Ancestors from Scotland, Glasgow and Ayrshire.
All set for your Scottish ancestral journey; navigate directly to our contact page and fill in your research query.