The Industrial Revolution in the 18th and 19th centuries had profound effects on the social, economic and cultural conditions of Britain – and on Family Tree Search.
Britain led the world in improvements in agriculture, manufacturing, mining, transportation, and technology during the Industrial Revolution. By 1851, Britain had more than 40 % of the total world's trade – and had become the first country where there more people living in towns and cities than in the countryside. 
Britain during the Industrial Revolution
Until the 19th century, most families had lived in the same area for many generations. This continuity makes it easier to trace a family back in time. Then many moved from the country to cities like London, Manchester, Glasgow and Cardiff to find work in the new industries.
The first Census in Britain in 1841 recorded whether the person had been born in the same county or not. The 1851 Census was the first one to record the place and county where the person was born. This helps with Family Heritage Search for those who had moved from another part of the country.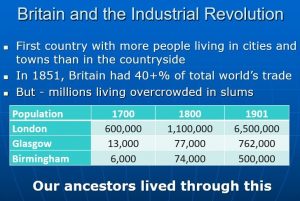 For one Cockney family, we found that ancestors had moved to the East End of London from the nearby counties of Kent, Middlesex, Surrey, Hertfordshire and Oxfordshire, but also from the northern counties of Yorkshire and Cumberland.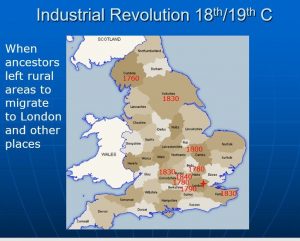 A family in Glasgow had ancestors from Ross & Cromarty, Banffshire, Nairnshire, Dumfriesshire and Kirkcudbrightshire. 
Family History Search by Occupation
Another area where the Census helps is occupation. Many changed from rural occupations such as agricultural labourer to weaver, miner or train driver. The arrival of the train in the 19th century meant that people could live much further from where they worked.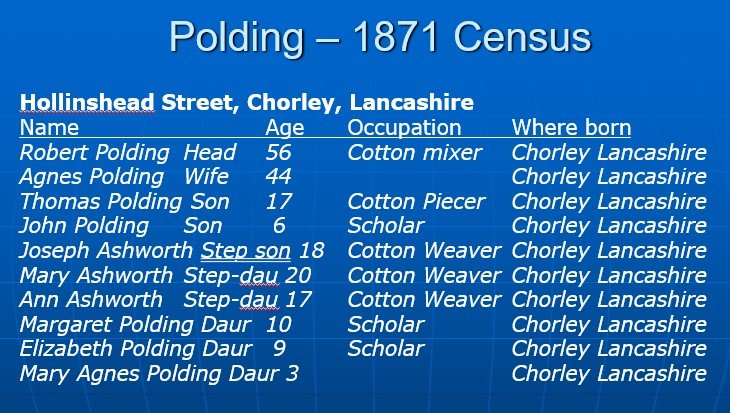 Unfortunately, the growth of population in the towns and cities led to horrendous social conditions. We have researched families where more than half of the children died before the age of 1. Disease was widespread in the overcrowded conditions that many lived in. The average life expectancy in parts of the East End of London was less than 25.
Our family history research has found many fascinating stories. It's not only the dates and places of birth, marriage and death of our ancestors that brings them to life, but also knowing about the history of the time and places that they lived in.