There's no escaping the fact that nostalgia is fuelling an insatiable appetite for Ancestry Research.
Whilst you are at home, you may be spending more time on social media and on genealogical websites and starting to build your Family Ancestry Tree and access online records. 
Do your ancestors hail from England? If so, this is the ideal opportunity to understand English heritage and maybe with a little help start the journey to walking in the footsteps of your forebears.
Historical Family Roots in England
English Genealogy is one of our specialities and we have brought our ancestors to life using family tree ancestry and co-ordinated place visits including Family Reunions in London and other family locations. By understanding the motivations for a family moving from one place to another we will look with you at geography, local history, family occupations and even a specific house through time!
Your Ancestors from London
London is a unique place. The political, financial and trading capital of the country with a history going back more than 1000 years. The home of the monarch and government – so many iconic buildings and places. Also of Cockneys living in the East End of London with their unique rhyming slang. In the 19th century, the population exploded from 1 to 7 million, as the United Kingdom led the world in the Industrial Revolution. But this also led to poverty and millions living overcrowded in slums. London is the home of The National Archives with 1000 years of records.
What is our family connection ?
We had the good fortune to go where our Ancestors lived and understand what their lives were like in London. Like so many, they had migrated from the Home Counties and other parts of the United Kingdom, to live in London. In the mid 19th century, ancestors from different families emigrated to New Zealand in search of a better life.
The work of our genealogists on both sides of the world connected our respective families in the very same church of St. Leonard's in Shoreditch where our ancestors were married on 24 December 1820. "When I grow rich, say the bells of Shoreditch" says the 1744 rhyme 'Oranges and Lemons'.
Uniquely, one of our family living in England still had the Family Bible which had been passed down the generations – see below. 
Lough Ancestor Story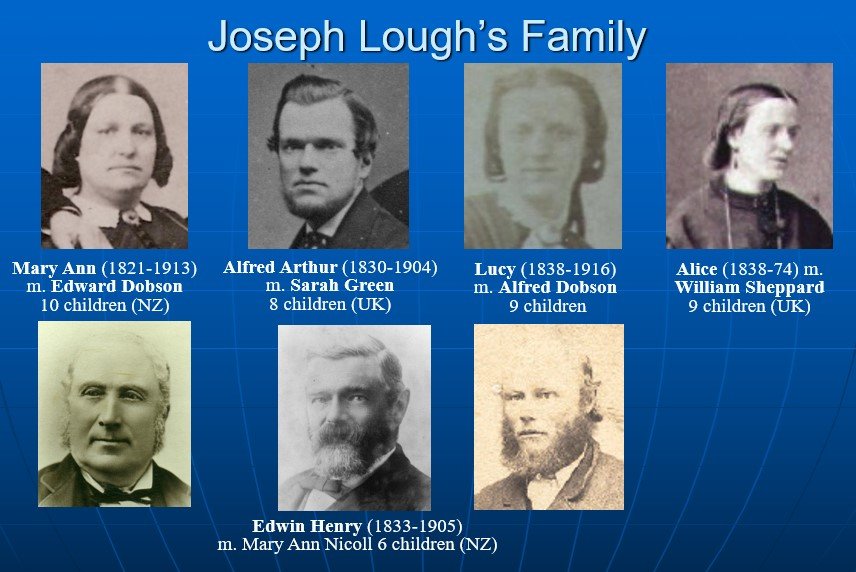 By 2005, we knew that Joseph and Mary Ann Lough had 8 children, 3 of whom died young. Of the survivors, 3 were also married in St Leonard's – Mary Ann to Edward Dobson in 1839; Alfred to Sarah Green in 1850; and Alice to William Sheppard in 1857. Mary Ann, Edwin Henry & Lucy, as well as Edward and Alfred Dobson, were to go out to New Zealand in the 1850s, while Alfred & Alice stayed in England.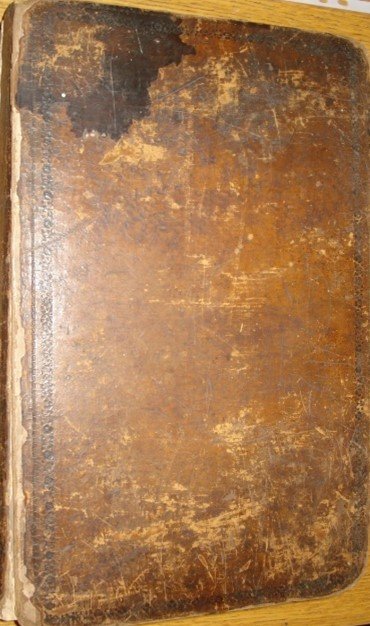 Descendant Ian Sheppard had found Joseph Lough's 1875 Will. As well as bequests to his other 3 surviving children – Mary Ann Dobson, fifty pounds; Edwin Henry, living in Canterbury, New Zealand, my silver watch and fifty pounds; Lucy Dobson, fifty pounds – he left to his eldest surviving son Alfred Arthur, his gold watch and chain and "the Family Bible with the Registry of births and deaths therein".
Wondering if Joseph's Family Bible had survived, we worked down Alfred's eldest sons in each generation. This led from Alfred to Rev. Arthur Dudley Lough (1853-1931), Arthur Alfred Lough (1880-1958) to Rev. Arthur Geoffrey Lough (1912-1990). A question to Geoffrey's daughter, Sonia Bedingfield, about whether she knew of the Bible, received the reply "Yes, of course, my brother Jeremy has it"! The sad news from examining the Bible was that it revealed that, in fact, there were 13 children, 8 of whom died young.

Family genealogists have now traced our roots to various parts of England; and found many records which have brought our ancestors to life. Contact has been made with relatives living in the United Kingdom, New Zealand and other parts of the world. Family Reunions have been held on both sides of the world, with visits to where our ancestors lived and stories told about their fascinating lives,
Your Journey of Discovery
If you discover your Family Heritage includes ancestors in England, then why not consider planning a visit to experience London like your Ancestors?   We can research the rich history of London on your behalf to connect you to your ancestry and help you learn 'Who Do You Know You Are?'.