This is for those of you who have long-lost family members due to the sad situation where children have been given away for adoption or been foundlings, and so lost contact with their parents.
There are also situations where people want to make contact with living relatives, sometimes that they may not even know about. Typically, it means using Ancestry Search services to look at records from the last 100 years or so but with very few leads on where to look.
Let's have a look at this, with examples to illustrate what we can do for you.
Factors in tracing ancestry
There are four main factors in tracing ancestry; and particular ones apply in cases like this.
Status – The parent or other relative will have gone on living somewhere, paid tax and voted. They may also have gone on to marry and be a parent and have other children. So there will be records about them
Records – The normal records of registration will apply, though the latest Census released was in 1911, so that may not apply. The internet often plays a part; and there will be other types of record such as directories and electoral rolls
Name and Continuity – These will be factors in the normal way with any research
Williams Ancestry Search
'Peter' had been born during the Second World War and given up for adoption. We researched his adopted parents and found very interesting information about the father's family from Wales, and the mother's from Ireland.
For his natural parents we arranged a meeting with an adoption advisor. His mother was Norah Robson, with an address in Hampshire. Our search found a number of Robsons living at that address, so guessed they included her parents. This led to tracing the Robson family to Northumberland in the 1911 census.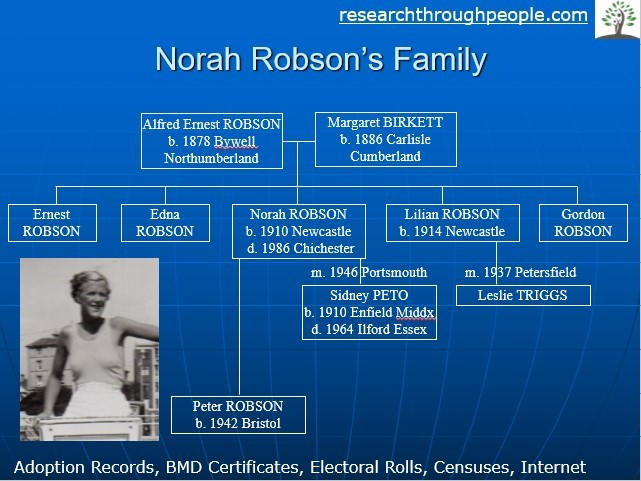 Our ancestry search pieced together the Robson family, including Norah's brothers and sisters. This led to contact with a living nephew of Norah's who had photos and lots of other information about Norah. So, a very happy and emotional outcome for her long lost son.
Moya Brunton Family Heritage
Joan had been given up for adoption after being born in Dunedin. She had found that her natural mother Moya was born in Melbourne in 1922. We traced Moya's family living in Melbourne for 30+ years; and her life through 2 marriages and a move to Queensland, before her death in 2005. Our search found living relatives who had known Moya; and had photos to show to a very appreciative Joan.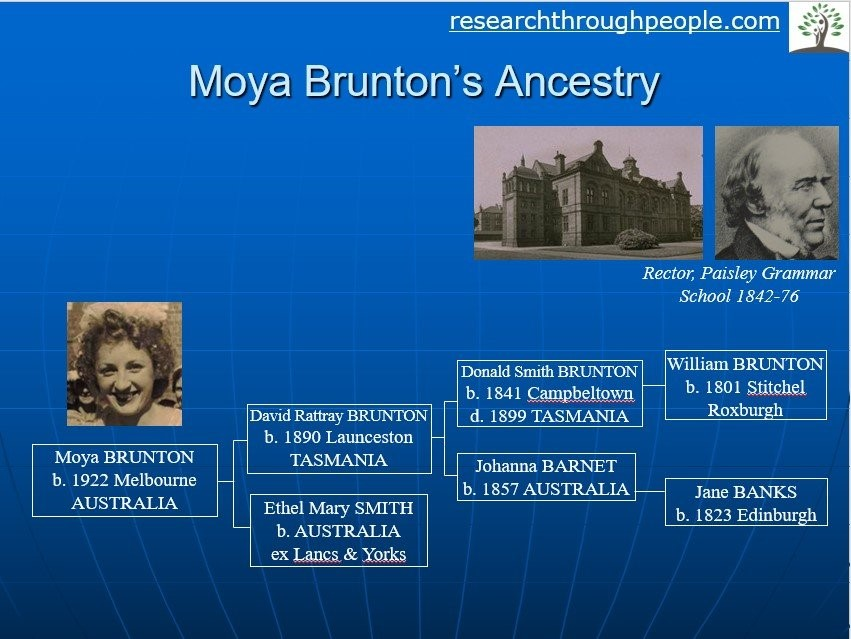 We also traced the Brunton family back to Tasmania and then Scotland. An ancestor had been Rector of Paisley Grammar School; and the School History had a picture of him and many pages about his activities.
Ancestry Research for Shirt Family
A brother thought it would be nice to give his sister the ancestry of her husband John, who had just died a few months before what would have been their Golden Wedding Anniversary. Our ancestry search services were first used to trace the Shirt family back to the East End of London in the 18th century. They lived in London while its population grew in the 19th century from 1 to 7 million, with all the consequences that had.
The family had moved to Warwickshire where Daniel Shirt married Frances Nixon in 1942. They had 2 sons, but divorced after the War, with John going with his father while the other son lived with his mother. There had been no contact between the 2 brothers for more than 50 years, but we were able to track down the other one, even though he had changed his name. So John's wife was able to make contact with the brother-in-law she had always known existed but had never met; and the families now regularly keep in touch. The recently released 1939 Register played a part here, including finding that Daniel's father, Daniel had remarried after his first wife had died, which was unknown to the family.
So, if you are someone who was adopted or would like to try and make contact with long lost family or relative, please get in touch with us. We can help researching your ancestry. We have a free consultation to look at the options, then you can make an informed decision, knowing how much it will cost you, while we know how far to go with the research on your behalf. Don't wait – talk to us today. We look forward to helping you to an emotionally rewarding outcome.