Have you ever wondered about reading history to get to know your Welsh ancestors better?  For those with Welsh Ancestry, these three Welsh heritage examples help bring ancestry to life.  Explore your Welsh Ancestry, enrich your life and uncover a past that you never knew existed.
Know Your Welsh History
People have lived in the ancient land of Wales for more than 20,000 years. But we can't promise to trace your ancestors back that far! Wales has a long and colourful history, spectacular scenery, historic cities – Cardiff, Swansea; industries such as coal, copper, steel; food. One could go on – but these are what would have affected the lives of your Welsh ancestors.
Most Common Surnames in Welsh History
The Success factors in tracing Welsh ancestry are the same as in other research – Status, Records, Name and Continuity. The Records are mostly the same as in England, but there are also local Welsh records. Surnames are similar, although there are more Surnames of Relationship, as is shown by the most common surnames.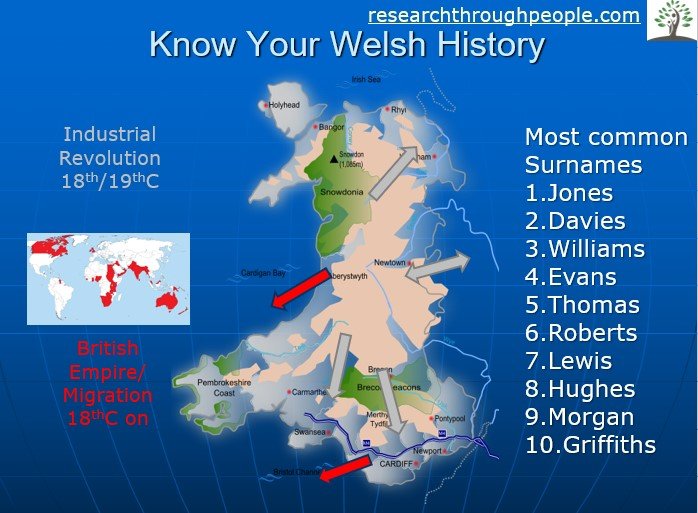 Of course, many Welsh people have emigrated to other parts of the United Kingdom, USA & Canada and other parts of the world. Their living descendants would like to know more about their ancestors from Wales.
Discovering Ancestors of the Davies Family
The Davies family lived in Glamorgan in the 20th century, but they had come from Llandeusant in the beautiful Brecon Beacons. They had farmed there for many generations. In the 18th century and before, most families stayed in the same area for many years.
Morris Ancestor Search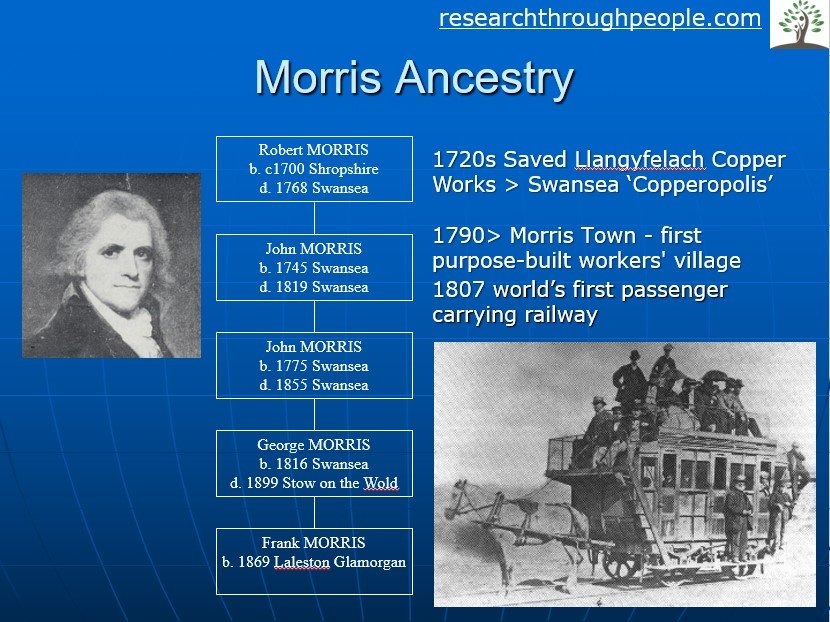 The Morris family had a tremendous impact on Swansea, Wales and the rest of the world. Robert Morris moved from Shropshire to Swansea in the 1720s, at the very start of the Industrial Revolution. He helped to save the Llangyfelach Copper Works and was a prime mover in Swansea becoming Copperopolis, with more than 50% of the world's copper trade in the later 18th century. He was also successful in the coal trade.
His son John Morris built on this – and was also a pioneer in the humane treatment of his workforce. In his 20s, he built Morris Castle – the world's first accommodation built specifically for workers by their employer. This was followed in the 1790s by Morris Town – the first purpose-built workers' village, now Morriston. Then, in 1807, he was responsible for the world's first passenger carrying railway from Swansea to Mumbles. It was horse-drawn but it led to the railway developments which would transform the world.
It runs in the family – Powell, Richard and Morris all Methodist preachers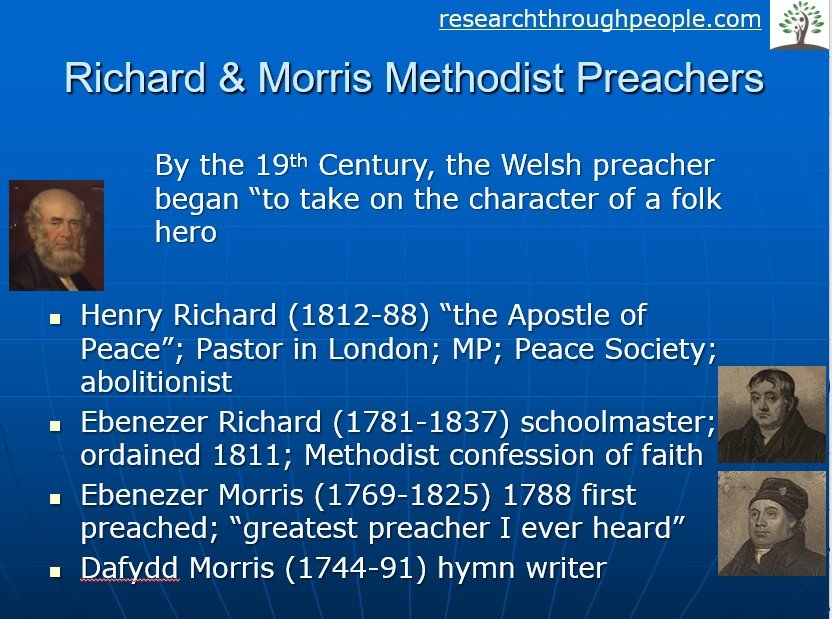 In Tregaron, Cardiganshire, there is a statue of Henry Richard. The Powell family said to us that they thought they were related to him. We traced back to Elizabeth Morris (1846-83) and her mother Mary Richard, born in Tregaron in 1815. Then we found that Henry Richard was her elder brother! By that time, Welsh preachers had become folk heroes. Our research revealed that Henry and Mary's father, Rev Ebenezer Richard, was a prominent Methodist preacher. As were Elizabeth Morris's grandfather, Rev Ebenezer Morris and his father Rev Dafydd Morris. A strong family tradition!
So that gives you a flavour of what walking in your Welsh ancestors' footsteps could be like. All set for your Welsh ancestral journey; navigate directly to our contact page and fill in your research query.