Many of you exploring your family's past will have relatives who went abroad; or live overseas, in this case, in Australia or New Zealand, but with ancestors from England, Scotland, Wales or Ireland.
Among the pleasures of ancestry search services are that it gives us a better understanding of the history of the times when our ancestors lived. It also makes the world a smaller place.
Ancestry search and migration is fascinating – why a person chooses to leave one place and go to another. It may be 'push' e.g. war, famine, persecution or other causing them to leave; or 'pull', the attraction of a gold rush or new life somewhere different. Looking into the family often requires research in 2 or more countries.
Australia and New Zealand are, of course, two countries with very close connections with Britain. People have emigrated to Australia since the late 18th century. Some of them had no choice as they were sentenced to transportation for 7 years. The main emigration to New Zealand did not start until the middle of the 19th century. A unique feature of the inhabitants there is that half of them knew someone who knew the original immigrant.
Here we show you a few examples of what is involved and what may be possible.
Caldow Ancestry search from Scotland to Australia
The Caldows had lived in Ayrshire from the 18th century before emigrating to Australia in 1852. The family had already made good progress on tracing some of their ancestors. We found 5 farms where the Caldows had lived in the first half of the 19th century, all of which had some of the original buildings still there.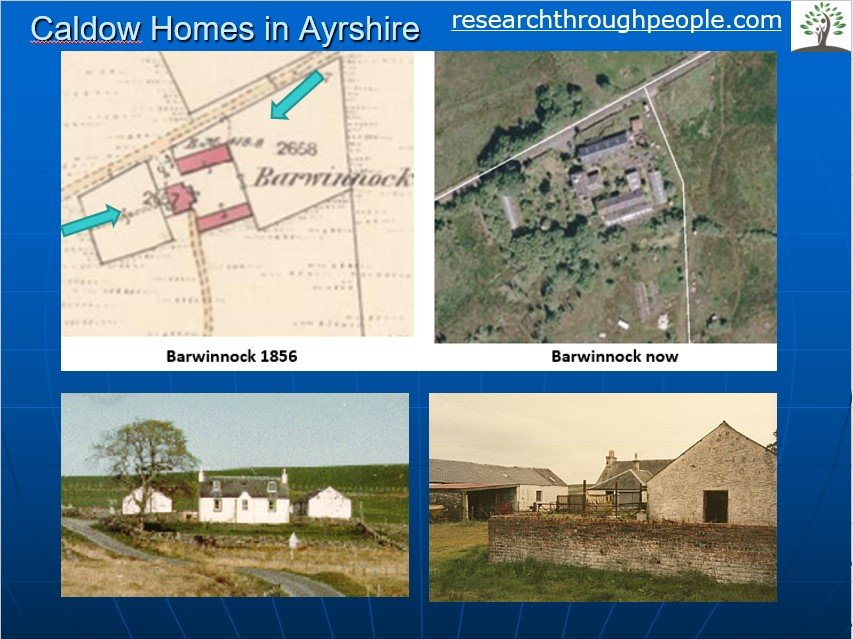 When she came to walk in her Ancestors' Footsteps, we arranged for 3 of the current occupants to show her round their homes.
Brunton Family Heritage from Scotland to Australia
This person had been given up for adoption after being born in Dunedin. She had found that her natural mother was born in Melbourne in 1922. We traced the family back to Tasmania and then Scotland. An ancestor had been Rector of Paisley Grammar School; and the School History had a picture of him and many pages about his activities.
Tracing Shirt Ancestry from England to Australia
The Shirt family were traced back to London in the mid 18th century. Among much fascinating information we found was that, after James's first son Daniel was born in 1872, his wife died. He re-married, had 5 children and then the family emigrated to Australia in 1907.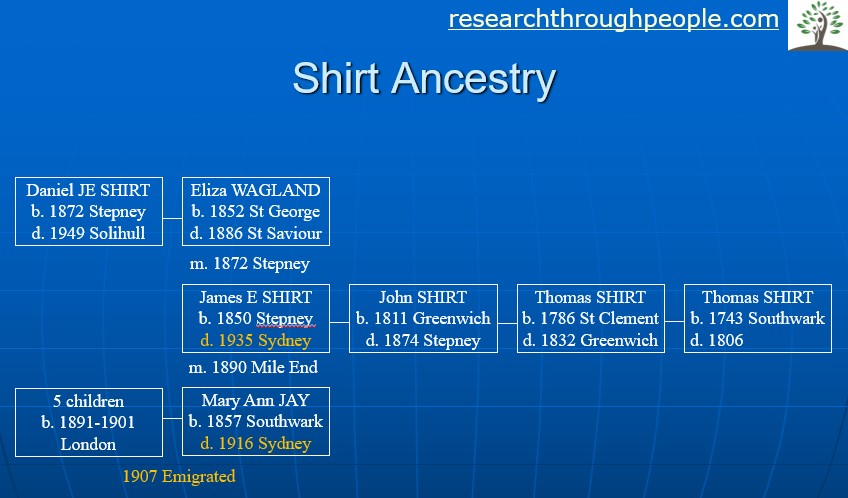 We made contact with living relatives in Australia. They said that James had died in 1935 in Sydney – but contact had been lost with Daniel, who was a benefactor in the Will, so they were not able to tell him.  
Lough & Dobson Family Heritage from Britain to New Zealand
The  Lough family from the East End of London had two daughters who married two Dobson brothers. They went to New Zealand in the 1850s, following a Dobson brother who had gone to Tasmania in 1843, and followed by a Lough brother. Research into their Family Trees found their origins in Cumberland and Northumberland back to the 16th and 17th centuries. The family in England were unaware of their Kiwi rellies but contact was made. This led to locating family heirlooms such as Family Bibles, many old letters between England and New Zealand, and old photos. Family Reunions have been held in England, New Zealand and Tasmania. More than half of their known descendants are from 'down under'.
Other examples include
• A New Zealander had Scottish ancestors who had emigrated to New Zealand in 1841. We were able to trace them to a small village near Perth, so she could walk in their footsteps on her first visit to Scotland at age 70.
• A British family had lost contact with a cousin in Australia more than 30 years previously. With the help of our Australian associate, using research sources such as electoral rolls and telephone directories, we tracked him to a Care Home in Melbourne.
Can we help search your ancestry?
Because of developments in communication, we can achieve so much more for clients than we could have done even a few years ago. We give a free consultation; then come back to you with the options that we suggest. What's important is that you know how much it's going to cost; and we know how far to go with our research.
Explore the range of Ancestry search services and contact our friendly professional genealogists by emailing: george@researchthroughpeople.com. In this 'Year of Scotland in Australia', we are running a 10% introductory discount for limited time only. Simply quote 'Aus/NZ 2020' in the email subject line.